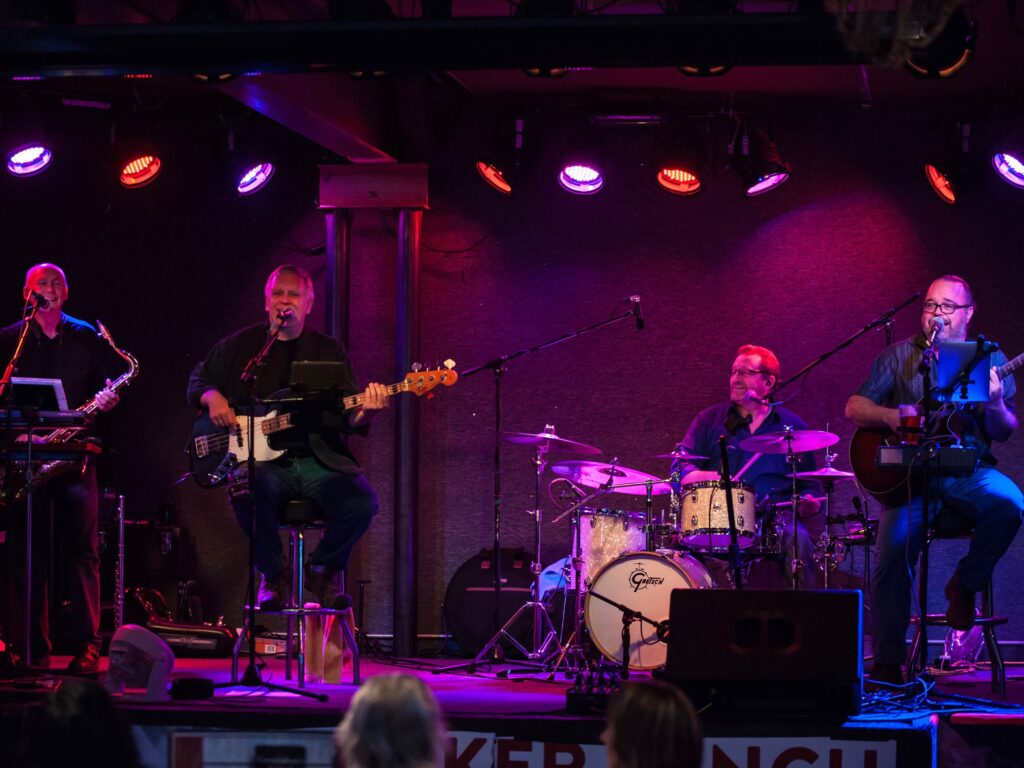 Blue Plate Special is a unique band – for music fans with a hearty appetite. Their songs, whether covers or originals, give the audience a feeling for American Roots music, music that sounds our history of American memories. The four-piece piece band includes a distinctive sound including guitars, bass, percussion, horns, keyboard, and their remarkable vocal harmonies. The band presents a variety of music genres and styles: pop, classic rock, country, blues, jazz. The song list is eclectic, including songs from 1930s to the 21st Century. They've played in a variety of venues from coffee houses to stage performances, private and corporate gatherings and heard frequently at Cunningham's Journal on the Bricks.
Band Members L – R Greg Tesdall, Terry Sinnard, Craig Link, Mick Johnson.
Blue Plate Special IS a SPECIAL band because of the variety of music that they perform. Their music can reach large audiences, from 20-somethings to Millennials to Boomers. As well their experience in various venues gives them an adaptability to any number of formats–outside venues like gazebos and parks, small theatres, fully equipped stages.
The members have played at Universities, National Festivals, Community Concerts, Theatre Stage Productions, State Fairs, and even honkytonk saloons in Great Plains area and around the country. Area venues have included Lied Center in Lincoln, various Nebraska opera houses, Sioux Falls, South Dakota stages, Nebraska Performing Arts Centers, Nebraska wineries, Community venues.
Together and individually they have toured regionally and nationally opening for major artists and acts. They have shared the stage with BJ Thomas, Kenny G, Dolly Parton, with Journey, Big & Rich, Doobie Brothers, Lamont Cranston Band, Nitty Gritty Dirt Band, Amazing Rhythm Aces.