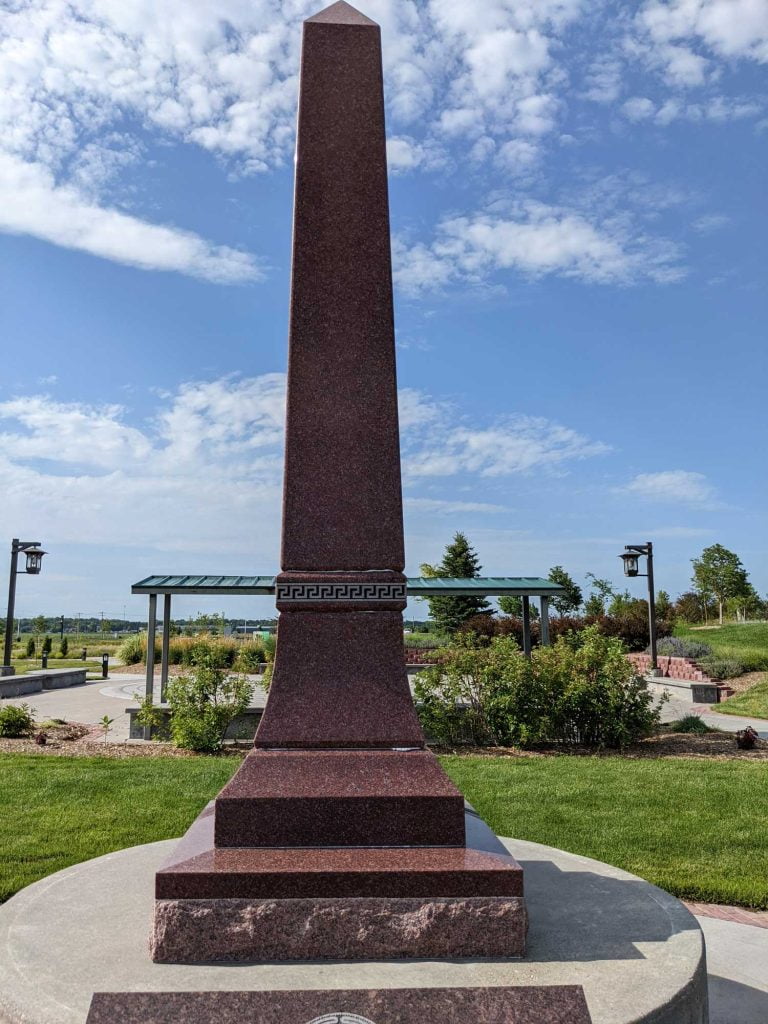 Coming from the south parking area, passing the joyful squeals from the splash pad, you cross the Wayne and Virginia McKinney bridge to see unfolding before you the new Botanical Gardens. All of this is recently planted and, in the odd weather of the belated spring of 2022, some of the planting has thrived, some struggled, and some, like the prairie garden, await the many seasons it will take to look like prairie.
Yet, impervious to the vagaries of our weather, the gardens are adorned by the latest in Kearney public art-the sculptures that denote the purpose and nature of the garden plots in which they rest.
Matthew Placzek's two sculptures, the pheasant and the butterfly, expand the idea of gardens into ecosystems with their own fauna and flora, emphasizing their role as habitats, as homes of the life they nurture.
Jun Kaneko adds the Columns that mark the entrance to the gardens from the east and the
Tanuki sculpture in the lower gardens to the west.
And in that same vicinity, Therman Statom's The Ladder-ever the sign of aspiration, of ascent-suggests both a striving for a one-ness with nature and, on its descent, the rootedness of all that survives the passing moment.
On the south, too, near the marker guiding users of the labyrinth, stands the obelisk, bringing to the garden that most ancient of artistic forms, linking the new gardens to the ancient world of all of our origin stories, and, as in the Washington Monument, our own national history.
The Columns themselves bear a dedication to some of the city's, the planners', the park's noted supporters-Mike Morgan, Earl Rademacher, and Tom Tye II.
Kearney has been blessed by many visitors, including now these sculptors, in a sense permanent visitors through their works of art.
Eighty-year-old Jun Kaneko, a master of the large ceramic sculpture, specializes in surface motifs achieved by ceramic glaze. With an education at the Chouinard Art Institute and California Institute of the Arts, Kaneko comes to Kearney from a bit closer-a studio warehouse in Omaha.