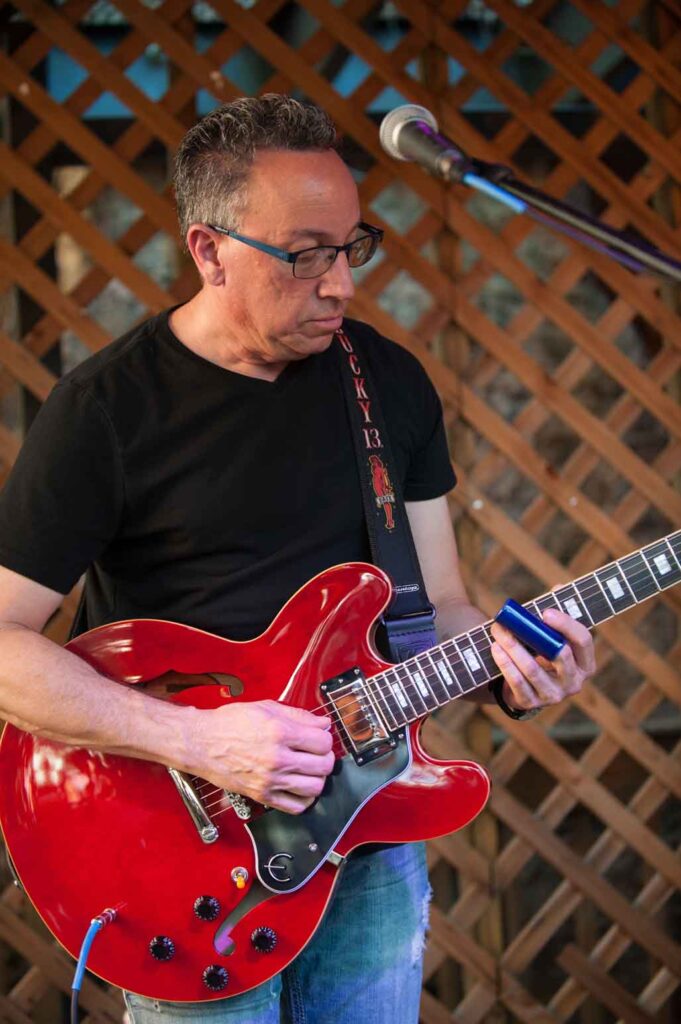 Growing up in Des Moines, IA. with a musical family, it seemed only natural for Mike to become a full-time musician. He traveled and performed with bands for many years. One such band (Flipside) became very popular as they frequently performed in Kearney at Maxwell's. Flipside and all its members were inducted into the Iowa Rock and Roll Hall of Fame in 2019.
Mike found connections in Kearney and decided to stay. He was offered a job at Yanda's Music and ProAudio which brought an end to his traveling musician days. Once settled in Kearney, he started playing in various local bands; The first being The OK Sisters. Great friendships were made with musicians in the area and the word got out that Mike was "one of the best guitar players around". He joined other Kearney bands including The Wizards, Code Blue and Bases Loaded. He also played some solo acoustic gigs.
Mike and fellow Kearney musicians have had the opportunity to open for some big names including Kenny G, Lee Ann Womack, Restless Heart and John Elefante of the band Kansas. He plays lead guitar for various groups and can cover when needed without much notice due to of his musical instincts and memory of chord progressions and licks.
Kearney Area Arts Council was a beneficiary of Mike's perspective during his time on the board. He worked with musicians and scheduled bands for the long-standing tradition: "Concerts in the Park". He plays acoustic or electric guitar in his church praise team. Mike says it took him a while to realize that his knowledge of the music and talents are a "gift" and he should be sharing them with others.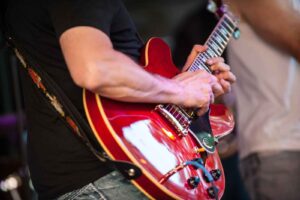 Over the past 40 years, Mike has composed many instrumentals and has worked as a studio musician. Recording and collaborating added to his desire to record his own songs with lyrics. He eventually met someone who would help make that happen. His wife Diane is a lyricist, but unable to play the guitar for a performance. They needed each other. The duo is called The Shockitanos – phonetic spelling of Sciachitano – and have written nearly 100 songs together and are working on a third album.
Some Shockitanos songs have received airplay and recognition. Mike and Diane wrote "Make it Sweet" which won first place in the 2019 Indie International Song Writing Contest in the Country/Americana category. This opened some doors and gave Mike added motivation. His home studio (Fireside Studio) will eventually be open to those wanting to record their own original music. He has proven that he has an ear for recording and his instrumental proficiency with drums, banjo, mandolin, slide guitar and bass can make a simple tune sound big and well produced.
His goals are to keep learning, writing, playing and to get his music into films.