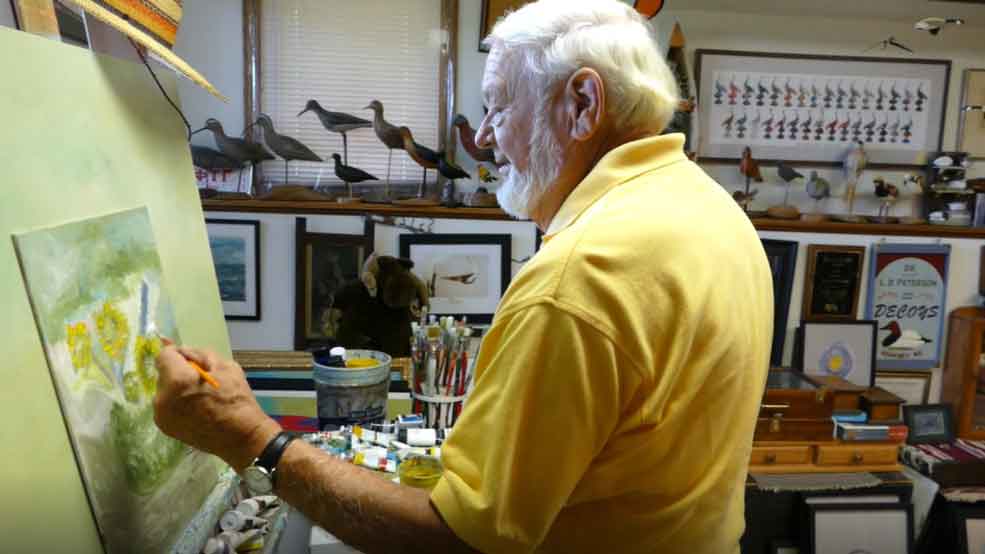 Larry Peterson has always drawn his creative energy from the prairie. Growing up near the Platte River, his family encouraged the young artist to notice the vibrant life and colors along the river. He spent much of his childhood camping, hunting, and fishing, and these experiences helped to stimulate his interest in art and to shape his vision.
Peterson was born in Holdrege, Nebraska on January 1, 1935. His interest in the visual arts earned him his first art award at age seven. After graduating from Axtell High School, he attended Kearney State Teachers College (now University of Nebraska at Kearney), graduating in 1958 with a B.A. degree in Art and English. He started his career as a high school art teacher for the North Platte Public Schools and also taught at North Platte College. In 1967 he received his M.A. degree from the University of Northern Colorado in Greeley, followed in 1975 by an Ed.D. degree with an emphasis in visual arts from the University of Kansas in Lawrence.
As an educator, Dr. Peterson was a professor in the Art and Art History Department at the University of Nebraska at Kearney (UNK) for 34 years starting in 1966. He taught secondary art methods and painting classes and wrote the K-6 Art Curriculum Guide for the State of Nebraska. His life-long interest in public education has been manifested in the countless number of art educators he has encouraged and mentored through the decades. In 1987, he received the prestigious Pratt-Heins Award for outstanding faculty service from UNK, and 30 years later in 2016 was honored with the Faculty Senate Distinguished Service Award.
One of the founders of the Museum of Nebraska Art (MONA), Larry Peterson has served continuously and actively on the Board since its inception in 1976, and now honored as a Board Member Emeritus. He together with Gary Zaruba, Jack Karraker, and Harry Hoffman were recognized by the Kearney Area Community Foundation in 2010 for the founding of MONA.
Another of his noteworthy achievements was establishing in 1971 Kearney's annual summer Art in the Park event, which he continued to direct for over 30 years.
He was honored with the Governor's Arts Award in 1981. He has been President of the Association of Nebraska Art Clubs and the Nebraska Art Teachers Association, and Vice-President of the Nebraska Arts Council. He is listed in Who's Who in American Art, Who's Who in Nebraska, and Nebraska Department of Education Bicentennial Edition as an art consultant. He is a member of Kappa Pi, a national art honorary, and continues to be active with the Kearney Artists Guild. His knowledge and skill are often called on for consulting and judging art shows in the Midwest. In 2012 he along with Gary Zaruba and Jack Karraker received the Roscoe Shields Service Award from the Nebraska Art Teachers Association.
As a collector, Peterson has a special expertise in vintage hunting decoys and folk art, researching and writing on these subjects. Over many years, he and Gary Zaruba acquired a large collection of 19th century wood and steel engravings focused on Plains images, which they generously donated to MONA in 2008.
As an artist, Peterson creates paintings in acrylic or watercolor, and many of his subjects are inspired by the Nebraska landscape. His work is in such public collections as the Sheldon Museum of Art, Lincoln, Nebraska; University of Minnesota, Twin Cities; Hastings College, Nebraska; and his alma mater schools. Larry Peterson paintings are also enjoyed by numerous individuals in over 500 private collections.
Larry Peterson and the Eclipse
A tribute by Chuck Peek
Petersons
Larry. Sharon.
Split Level House.
She Wrote Upstairs.
He Painted Downstairs.
Not Like Rich and Poor in the Melodrama.
Like Ascending Ideas for MONA and Art in the Park
Like Descending Poems Touching Day-by-Day Life in Kearney.
Like Levels. Like stairs. Like Ups and Downs. Like Nature and the Arts.
And Two Petersons Somewhere In Between. Reaching Out.
Reaching Us.
Eclipse by Sharon Peterson
2018 Eclipse in its totality today!
It was an epic experience for all!
Kearney was right in the right spot
For the "VIEW."
They came from all over—even out of state
Michigan, Colorado, Arkansas, Nevada
Kansas, Ohio, Illinois, California,
Pennsylvania, and Texas just to name a few.
Also a photographer from Brazil, a family from
Germany, one from Sweden, Belgium & India.
They watched with complete AWE! Set-up
Football, baseball fields, golf courses, in farm
Pastures along with the cattle, some staked out
On a farm to market gravel road, a dusty dirt road,
Church parking lots and more.
There were young singles, a newly married couple
(in fact married this day of the Eclipse!)
We had telescopes, professional photographers,
And just using the cameras on their cell phones.
We even had 4 generation families here to see
This amazing sight!
Kearney being the center point from each coast
And blessed on this special day low cloud cover
Percentage at 12:37 P.M. Just perfect for the viewing!
Kearney residents some neighborhoods grouped at
Various front lawns, patios, etc.
Yes, a once in a lifetime event!
For us who sat on our back patio with our special viewing glasses.
We probably won't see such an epic sight again. WHAT AN EXPERIENCE!
IT WAS AWESOME!