Christel Detsch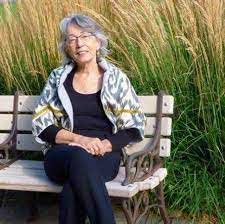 A native of Luneburg, Germany, Christel Detsch came to the United States to study and received am MA from the University of Colorado, Boulder. Christel lived in Kearney, Nebraska, for 20 years and served as an instructor of German at the University of Nebraska at Kearney. She now resides in Colorado.
Christel's first book, On the Edge of Town, tells the story of life in a small town in Nebraska where the reader becomes swept up in the fate of people who are lonely and dejected. When extraordinary events shake up their lives, they are forced to take a stand.
Her second book, Thyme in Provence, tells a story of cultural difference. A personal collection of funny, wistful, and charming stories, the book revolves around Christel, a German woman with a fondness for order, and her American husband with his can-do attitude, when they move to Provence and must deal with the French.
Her most recent work, Elsbeth – Bilder im Nebel, was written in 2022 and charts the eventful life of its title character, Elsbeth. As she ages, she is forced to take care of her household and her aging husband. One of her coping mechanisms-she is an artist and can retreat to her world of art, and there escape into her past. Christel Detsch. Writer. christeldetsch.weebly.com
Martha Pettigrew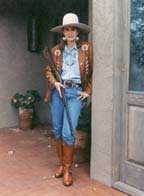 Formerly an illustrator, Martha Pettigrew has established herself as one of the foremost Western contemporary sculptors. Her work has been accepted in such prestigious and exclusive exhibitions as Settlers West's The Great American West Show in Tucson Arizona; Leigh Yawkey Woodson Art Museum's Birds in Art, in Wausau, Wisconsin; Women Artists and the West, at the Tucson Museum of Art, Tucson, Arizona; and Sculpture in the Park, in Loveland, Colorado.
Consistently one of the top-selling sculptors in exhibitions, Martha's work is sought after by institutions, corporations, privately-funded sculpture gardens, and many private collectors. Recently, Martha has been awarded commissions from such prestigious names as J.P. Morgan Company, Johnson & Johnson Company's Grounds for Sculpture, in Hamilton, New Jersey, the Anhauser Busch Company, the Irvine Company of Florida, the University of Nebraska at Kearney, Nebraska, and the Hilton Hotel in Sedona, Arizona.
Recently, her work was installed in Loveland, Colorado's Benson Park Sculpture Garden, and her piece titled Beauty of the Harvest was purchased by the Sandia Indian Tribe, Albuquerque, New Mexico, to greet guests of the Sandia Indian Casino. Other noteworthy collectors include The Nebraska Racing Hall of Fame, in Grand Island, Nebraska; the Eastman Kodak Company, Rochester, New York; the Guarantee Bank and Trust, Denver, Colorado; the St. Vincent Hospital, Santa Fe, New Mexico; and the Museum of Nebraska Art, Kearney, Nebraska.
Featured on the cover of Southwest Art Magazine for July 1998, Pettigrew commented-I find the everyday tasks of the native people of the Southwest, especially the women, to be an endless source of inspiration. If I have achieved my goal as a sculptor, the viewer will feel an emotional attachment and never tire of seeing the piece. The sculpture may become a source of inspiration in their lives.
Martha graduated from the University of Nebraska, Lincoln, with a Bachelor of Fine Arts degree. She is the recipient of many prestigious awards including; Best of Show, Western Spirit Art Show, Cheyenne Frontier Days Old West Museum, Cheyenne, Wyoming; the George Phippen Memorial Foundation Award, Phippen Western Art Show, Prescott, Arizona; Allied Artists In Memoriam Award, Allied Artists of America, New York, New York; and the Silver Medal, Knickerbocker Artists U.S.A., New York, New York.
Martha resides in Kearney, Nebraska, where her home and studio boast a floral array just across the street from a florist shop. Martha Pettigrew. Visual Arts. marthapettigrewart.com

By Jerry Fox, Kearney Creates Editor
Del Pettigrew
Born in Lincoln, Nebraska, Del Pettigrew attended the University of Nebraska, Lincoln, where he studied journalism and political science. Although his first sculpture, a bas-relief of mallards in a marsh setting, was done at the early age of 12, many years passed before he began sculpting in earnest.
Del's art education consists of workshops and studying the masters. From the study of works by Rodin and Bugatti, he learned that surface textures, left unfettered, provide an aesthetic appeal unattainable by laborious and meticulous manipulation. From Rungius he observed the power of expression and its effect on overall mood. He has studied with contemporary sculptors Chapel, Lincoln Fox, Peter Rubino, and Floyd Tennyson Dewitt. Hours spent in the solitude of museums here and abroad have left indelible visions of composition.
Pettigrew's subject matter is drawn from life experiences, a bear seen while fly fishing in Wyoming, birds seen along the Platte River in Nebraska, and his constant fascination with horses, which he has owned and bred since the age of 14. Del's wife, Martha, both a renowned sculptor in her own right and in their years together Del's most trusted critic, continues the family art tradition.
About his inspiration and style Pettigrew says-I still prefer to sculpt from actual experiences. I want my sculptures to portray the excitement I felt when I encountered an animal in the wild, or perhaps a memory from observing a mare and foal in the paddock. I'm not interested in creating a model; rather, I want to express myself artistically in an impressionistic manor. Del Pettigrew Visual Arts

By Jerry Fox, Kearney Creates Editor
David Wiebe
David is an orthopedic surgeon and artist living in Kearney, Nebraska for the past 40+ years.  He grew up in India, got his college and graduate degrees in Kansas, and his orthopedic training in the Canal Zone, Panama.  Now retired, Weibe can paint as much as he wishes. David Wiebe. dawiebeart.com
As you listen to him describe his art, you can imagine and see how these two seemingly disparate professions require many of the same sensitivities. Now, you add his biographical piece about growing up in India and his work with Orthopedic Overseas, you see an artist who delights in the world around him. David is a listener. He listens to that world and creates.
He has said that his-is a dyslectic gallery of paintings!  God's creativity is in each of us and I like to paint.  I paint what I see or have seen.  I've had the privilege of working and traveling in many places with Orthopedics Overseas and at mission hospitals and, hence, the variety.  He adds that-I paint listening. Perhaps you can hear a bit of Bach's Toccata and Fugue or Debussy's La Mere, or Copland's Appellation Spring, or just the wind and birds. And since all sights and sounds are transient, my preferred medium is transparent watercolors, which is quick.  I prefer a sketchpad to a camera.
David's home is his studio, designed by his architect son and often visited by his daughter who has spoken frequently at the University of Nebraska at Kearney's World Affairs Conference. In his retirement, he is making arrangements, in consultation with advisors from the college and the town's arts and culture community, to see that the home, studio, and grounds are made available to artists in residence-visual artists like himself, but also writers and performers and composers of all sorts.
His piece titled Incoming in our photo gallery was one of his three pieces in the Museum of Nebraska Art's Spirit 2022 Exhibition. David Wiebe. dawiebeart.com

By Jerry Fox, Kearney Creates Editor