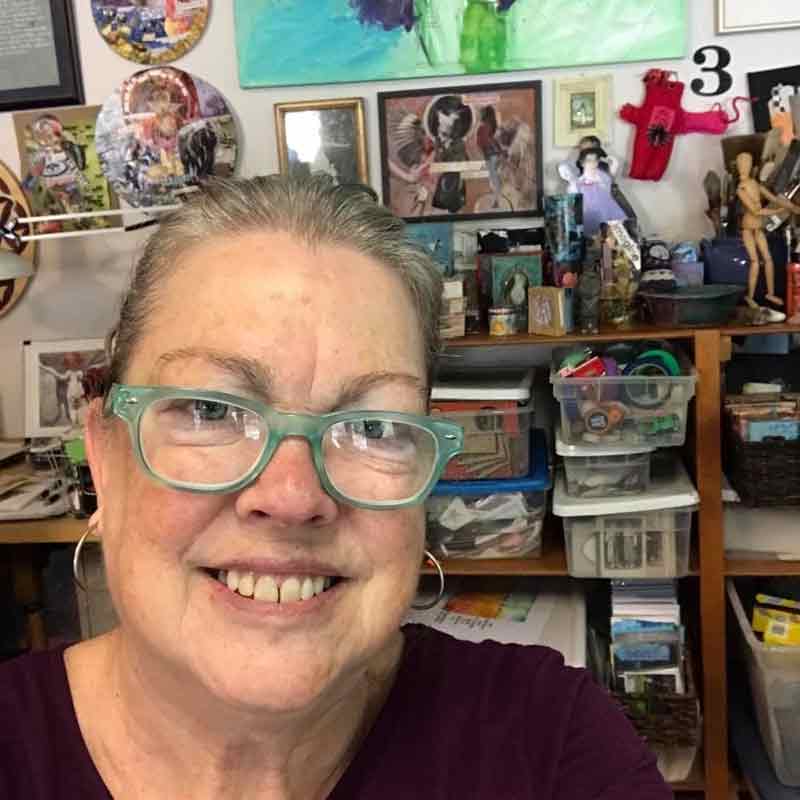 Pat Wiederspan Jones is an artist hailing from Kearney, Nebraska. With an extensive background in art education, Pat enjoys creating and teaching from her own studio. Jones believes in the healing powers of self-expression, and most of her work now centers around exploring art journals, mixed media collage, painting on canvas, and working on paper.
She holds a BA in Art Education from Hastings College and a MAEd from the University of Nebraska at Kearney. These degrees enabled her to teach art in many venues from Junior High School to the University of Nebraska at Kearney – from the Museum of Nebraska Art to workshops for adults – from North Carolina to California and points between – from hospitals and cancer centers to many private locations.
Pat is always involved in creating art, teaching art, and supporting the arts in her community. Her work reflects her interest in varied techniques and materials. She is best known for her watercolor landscapes and acrylic paintings on canvas but she is also interested in mixed media collage and found object assemblages as well as in art journaling – mandalas – handmade books – fiber arts. She helped initiate the Cranes on Parade celebrating Kearney as the Sandhill Crane Capital. Local artists prepare Crane models with their own designs. But Pat Jones is probably best known for the brilliant watercolor landscapes of her Nebraska surroundings.
These three pieces show the depth and breadth of Pat's subjects.  Tree Story.  Dream of Wings.  The Garden.